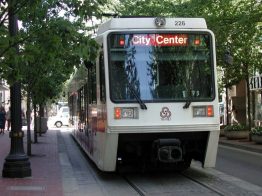 Portland Quick information
Transit System
System Type
Bus: 80+ routes
Light Rail: MAX with 5 routes
Commuter Train: WES with one route
Streetcar: owned by City or Portland, with 3 routes
Note C-Tran buses from Vancouver, WA do run into Portland
Fares
All system fare for 2.5 hours is $2,50, a day pass is $5.00 (not valid on Ctran)
Fare Media
HOP Contactless Farecard
Smart Phone Ticket App
NFC Credit Cards/Smart Phones
Tickets
Monthly Passes
The city of roses
No need for a car in a city that promotes "Keep Portland WEIRD"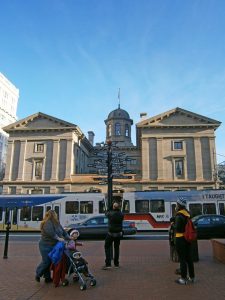 Portland has been discovered. It is the largest city in Oregon. The city is split by the Willamette River and to the north it edges on the Columbia River. It is known for being very progressive. They tore down their riverfront freeway in downtown and turned into a park in the 1980's. In the early 1980's they canceled a new freeway project and were able to convert the funding into building the first MAX light Rail. In 2001 the city opened the first modern era streetcar.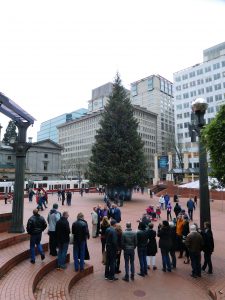 To say Portlanders know how make a livable city is an understatement. The city is very vibrant with lots of shops and restaurants. It has the most microbreweries within its city limits than any other city in the US, if not the world. There are plenty of family attractions to choose from, so there is no reason not to come to Portland, and not use a car.
Here are a few top destinations that can be reached by rail transit in Portland.
Portland International Airport: MAX Red Line
Oregon Zoo/Washington Park: MAX Blue & Red Lines (Washington Park)
Oregon Museum of Science and Industry (OMSI) MAX Orange Line, Portland Streetcar Loop A/B (OMSI Station)
Pioneer Square, also known as "Portland's Living Room"
Oregon Convention Center: MAX Blue/Red/Green (Convention Center) Portland Streetcar Loop A/B
Moda Center/Memorial Coliseum, home of NBA Blazers (MAX Blue/Red/Green/Yellow (Rose Quarter), Portland Streetcar Loop A/B
Providence Park, home of the MLS Timbers: MAX Blue/Red (Providence Park)
Powells Books: Portland Streetcar NS, Loop A/B
Portland Art Museum: Portland Streetcar NS, Loop A/B
---
To help you get around Portland we have the following sections. (coming soon)
Transit System information

Generic System
Fare information
How to use the system
Airport to city and Amtrak information

More destinations that can be reached by transit