Snuba and Petting Fish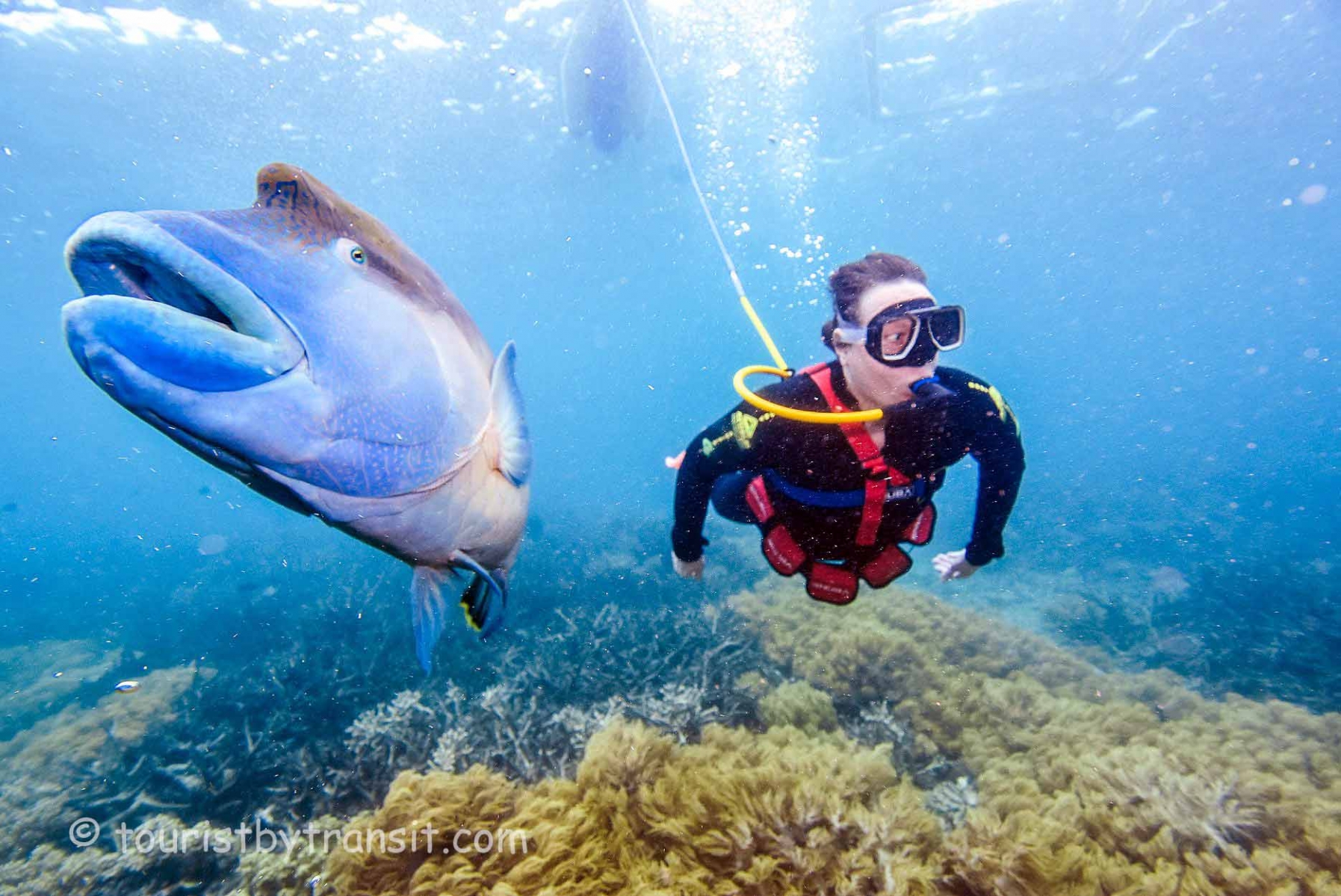 Today was all about the Great Barrier Reef. We started the day with breakfast at a cafe down the street from our room. It was pouring rain. After breakfast, we walked down to the Reef Terminal. It was still pouring. We got on the boat, and it was still raining. We pulled away from the port and the seas were VERY choppy.
On the way to the reef, a Snuba instructor, Jenny upsold my wife to do a Snuba dive. Snuba is a combination of scuba and snorkel. She would be attached to a breathing tube that is attached to a tank floating on the surface. I told her to go for it. So she signed up. The only hitch was getting a Doctor clearance based on one Rx she was taking. They would contact the Dr. If she wasn't cleared she would stay on the surface only.
We got to the platform in 90 minutes. The seas were still rough, but it wasn't raining. Cyn went out for a snorkel first thing, and she LOVED it. She then went out for a surface Snuba since Jenny had not heard from the DR yet. She was ecstatic! We then had lunch which was provided, it was pretty good.
After lunch the seas had calmed down enough that the semi-submersible went out, that was my gig. While I was out, Jenny got word that Cyn was cleared for a Snuba Dive. So Jenny took her out again.
She saw so much more, and got to pet the Wally fish! When she got out, she was exhausted, but in 7th heaven!
While she was recovering, I went out on the glass bottom boat. That was more enjoyable than the sub. Not as hot, and could see the reef clearer.
Many of the photos here were either taken by the ship's photographer, or by a waterproof Fuji Camera I got for Cyn to use. Out of water photos were mostly from my phone.
We cannot recommend highly enough Reef Magic Cruises. They are a local company with very good service. And Jenny went out of her way to make sure Cyn had a great time!.
After getting back to the dock (it was still raining) we walked back to our room. Cyn was exhausted, but I got her out for dinner, by driving to the local brewery. The food was okay, as well as the beer.
It was then time to put her to bed, she was happily exhausted.
< Previous Day (Sydney/Cairns) (Cairns/Melbourne) Following Day >