Flying to Melbourne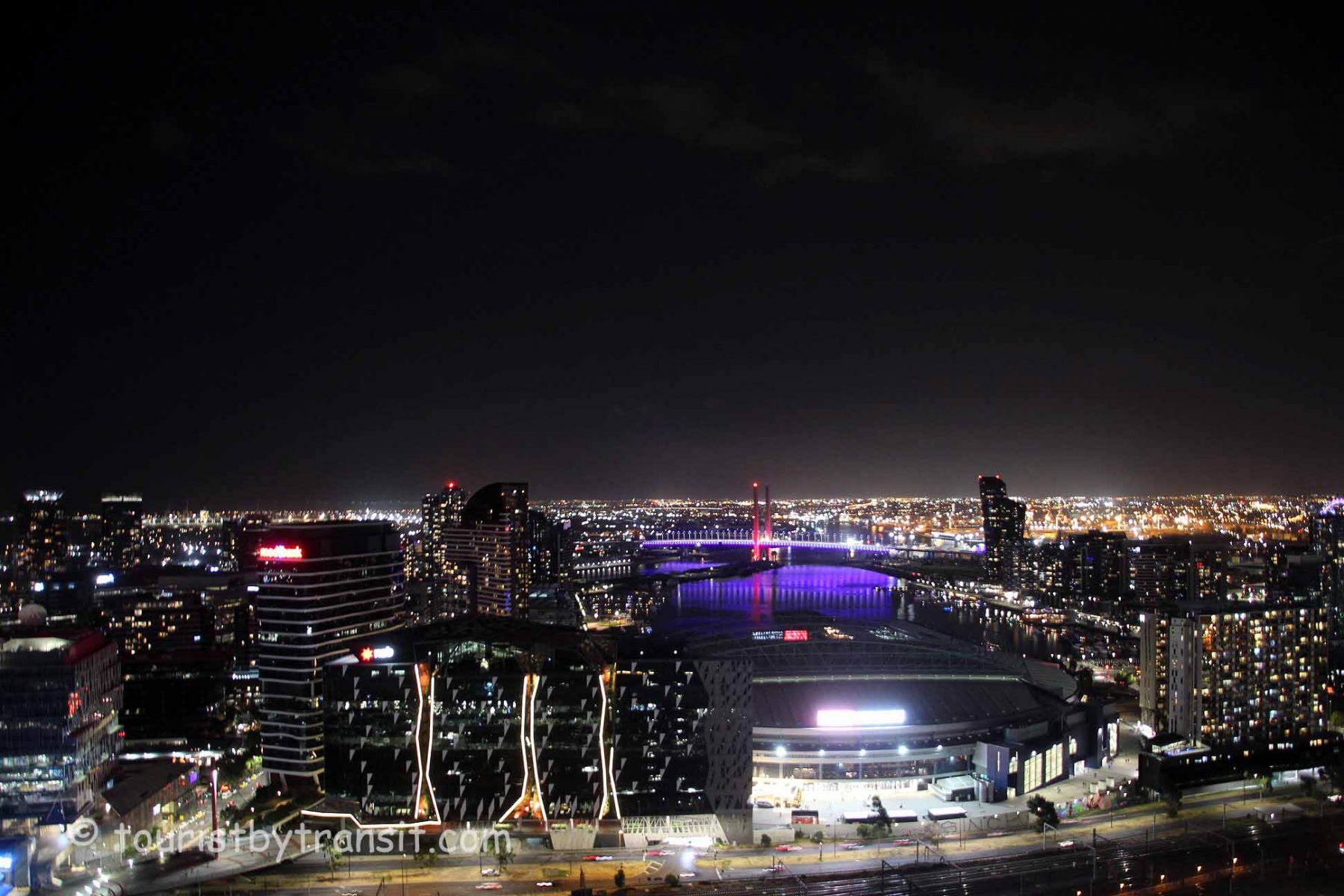 It was time to move to our next and final city, Melbourne, but not without checking out Cairns a little more.
I did a walkabout in the morning, the main goal was geocaching. Checked out the Bat trees, the waterfront, and the train station. The train station is nothing to write home about as it is under a parking deck. However, did get to see the Kurunda Scenic train before it left. I spent about 2+ hours walking. The temperature was about 75 Degrees, and it was sunny, however, it was very humid. Even though it wasn't hot, by the time I got back to our room my t-shirt was drenched. I took a quick shower and tried to dry my t-shirt before packing it as we had to head to the airport.
Originally I had booked a non-stop flight on Virgin Australia from Cairns to Melbourne. About a week prior VA sent an e-mail saying that flight was canceled. We were re-booked on a flight that left 30 minutes earlier, but went to Sydney, had a 30 min layover, then onto Melbourne, and would arrive an hour later than the non-stop. Not much choice as AA had no other non-stops that day. My guess is they had low ticket sales for Saturday, so they just moved the Melbourne passengers to the already scheduled Sydney flight There were about 30 of us in this situation on the flight.
Again, security did not look for ID or boarding passes. At the airport, we had a brunch that was pretty good! VA did feed us more than just pretzels on both flights. The transfer time in Sydney seemed rush, but no issue.
One odd thing I noticed on each flight as the plan would arrive at the gate. Many passengers would unbuckle their seat belts, and some even would stand-up when we were close the gate. The plane was still moving and the seat belt sign was still on. It happened on every domestic flight (all 4 flights). I only ever notice that happen when flights land in NY airports, and the flight attendants have to yell out seat belts and sit down…
Once at Melbourne we collected our luggage and boarded the Skybus to the city (I had pre-purchases tickets which was faster and cheaper). The bus stopped at Southern Cross Bus station just feet from where I needed to pick up and AirBnB keys. We then crossed the street to our home for the next 4 nights.
We walked into the room with a bottle of wine and a greeting card congratulating us on our Anniversary. It was very sweet! The place was a very clean and efficient one-bedroom apartment. The main selling feature was the view as we were on the 37th floor. A great view of Southern Cross Station, but also bridges, the stadium and beyond.
We were a bit hungry. We decided to go to Hungry Jacks across the street. I say their logo and thought it looked like Burger King. I looked it up, and yes indeed Hungry Jacks IS Burger King in Australia. They had the Whopper.
After dinner, we grabbed a tram (86) to the Docklands. There we transferred to the City Circle Tram. The one we got went clockwise around the city. These are refurbished SW-class trams that had all the right traction sounds for me! We rode the car about 90% around the loop (I think we were on the last car of the night). We transferred at Flinders/Spencer to a tram to get us closer to our room. After getting to our room, I ran out to Woolworths at the train station to pick up a few things, then called it a night.
< Previous Day (Great Barrier Reef) Melbourne Day 1 (Following Day) >