Trams, Coasters & Tram-Fans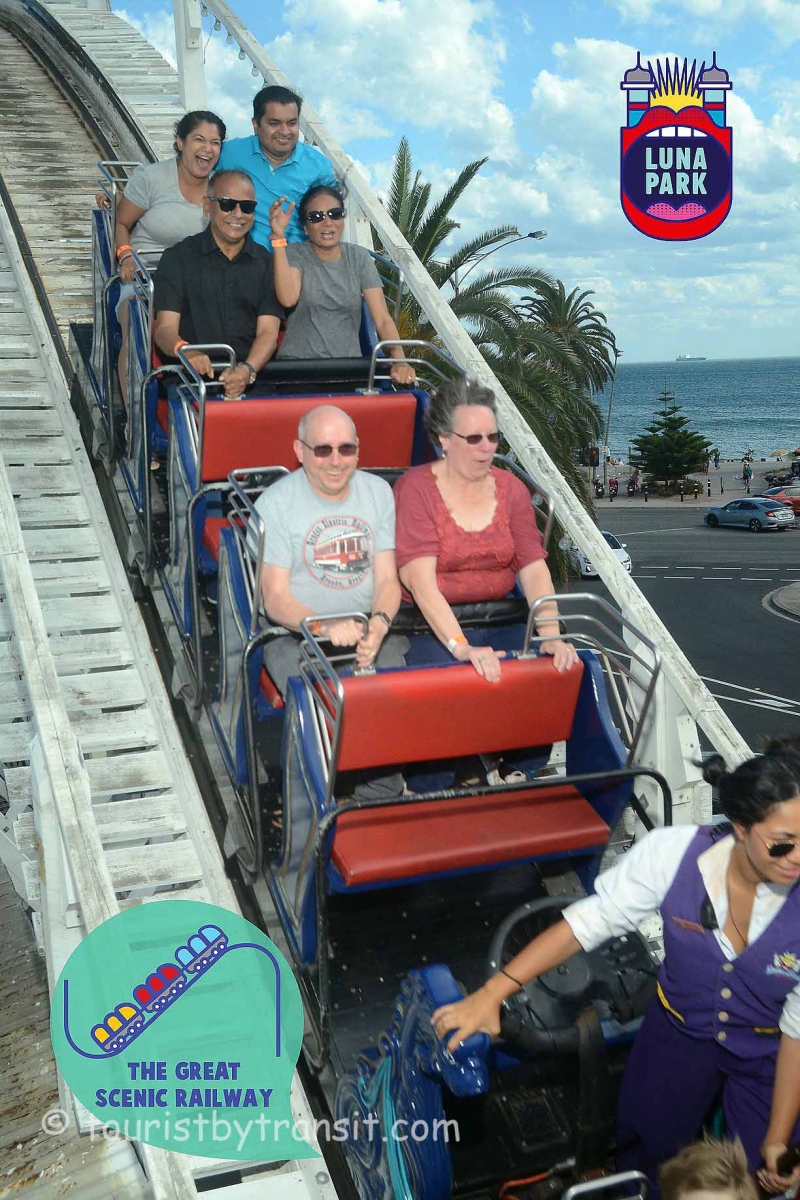 Today was a full day, but starting a little later than most "Mark" days. We had breakfast at a cafe in Southern Cross Station. A really nice cafe… We then walked down to Flinders Street to grab a 70 tram to the Melbourne Tram Museum and Hawthorn Depot. I had made arrangements for a tour at 11 am since they are normally closed on this day.
Russell Jones was my guide. He first had set up a display room so my wife would be comfortable, and with videos of the famous Melbourne Art Trams. Russell gave me a thorough tour of the collection and the history of Melbourne's trams. Afterward, a tour of the gift shop was in order, where my credit card got a little workout.
After the tour, my wife and I hopped on the tram. Since it was past lunch time, we needed to eat. We needed to transfer trams to get to our next destination at Riversdale and Glenferrie. Right where we got off the tram was a small cafe, so lunch it was! I quickly developed the "squirrel" syndrome when a tram went by since we sat at a sidewalk table. The squirrel syndrome with trams continued throughout our entire stay in Melbourne.
After lunch, we boarded a #16 tram to head to Luna Park. A very classic, what I would call a trolley park. Our goal was only one, to ride the Scenic Railway, the second oldest roller coaster in the world, and only one of 3 that need a brakeman(person) on board.
When we arrived I asked if the coaster was running, and they said yes, but with caution. They shut down the railway if the winds pick-up and the weather forecast did have gusty winds for later in the afternoon.
So we bought single-ride tickets and got in line. The wait was estimated at an hour. I did see the winds gusting on occasion, so we both were crossing my fingers the entire time. Finally, it was our turn to board the train.
I purposely had us seat in the first available row behind the brakewomen. For our trip, it was a young lady on the brake handle. Soon we were off. We had only been on one other brakeman required coaster before, that was in Copenhagen at Tivoli Gardens but never got to see the person in action. It was so much fun. At one point the cars really bounced, my wife jokingly yelled out that they should fix the potholes, the brake-girl turned back and smiled
🙂. Soon the ride was over… After we got off and got our ride photo, we noticed the train had not left and the operators were on their radios. Soon they were pulling people out of the train. The winds had picked up enough to stop the ride. So we were on the LAST ride of the day. We were SOOOOO LUCKY!!
We decided that we did what we wanted, gave an extra ride ticket to another family and headed to the tram to take us back to our room!
I had made arrangements to meet with local tram fans for dinner. One of them,Mal, met us at our building and we rode together to the Terminus Hotel in Clifton Hill. We had a great evening, the guys talking trams and the gals probably talking about why trams?
After dinner Paul and Robyn headed home, Mal and his wife drove us home with a little tour of Melbourne, which was nice!
< Previous Day (Cairns/Melbourne) (Melbourne Day 2&3) Following Day >