All Good Things Must Come To An End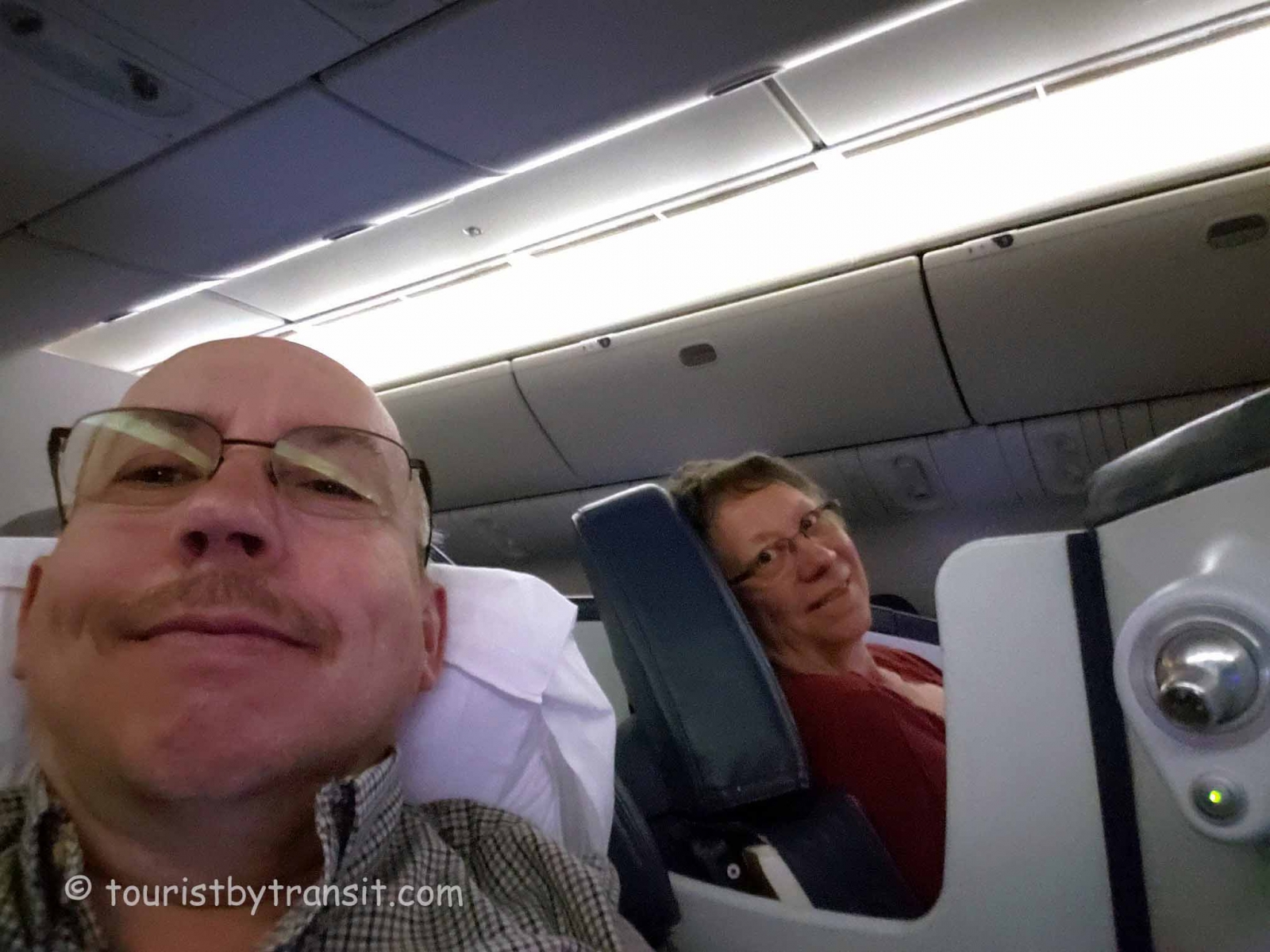 This is the smallest album of our trip, but it was a VERY long day….
We woke up at 4:30 am, straightened everything up, then by 5:05 am, we were leaving our room for the last time. We dragged our luggage across the street to the Skybus terminal. We had just missed one bus, but another one drove up about 10 minutes later.
We checked into our flights. We probably did not need to get to the airport as early as we did, but this way we were able to have a nice breakfast in the Virgin Australia lounge. This was probably one of the best airline lounges I have ever been to. Soon it was time to head to our flight. The lounge had its own security checkpoint which was pretty cool. We had first class seats on the flight to Sydney which was nice.
At Sydney, we arrived a little early. We were supposed to have about a 1:40 layover. We were directed to take a bus that would get us to the international terminal. We checked in to the bus and were told they run about every 10 minutes. About 30 minutes later we were boarding the bus (we and about 30 other passengers were not very happy). Then it turns out they were training our bus driver which meant for slow going. What I found very odd is the bus didn't drive across the airport. It actually left the airport and used the normal roads to get to the other terminal. It dropped us off at baggage claim. I told Cyn, if I had known this was going to happen, I would have had our Opal cards handy, and just taken the train. It probably would have been faster.
Now it was 40 minutes prior to departure.. I got stuck at immigration's automated kiosk (Cyn did not), then I got selected for random carry-on screening at security… Finally got to the gate, they were boarding Delta One, but of course, got stopped for security questioning. Finally, we were on board. We were in seats 4B/C. So both in the middle section so we could see each other in our lie flat seats
🙂.
Our meal choices were a bit fancy for me. Cyn had Balmain Bug, which is a small Australian lobster. I had the Thai chicken, which I did not like. The appetizer was okay. Mid-flight I had a hamburger. Breakfast was pretty good. I watched 2 movies but tried to sleep most of the flight (more resting then sleep). About 13 hours later we arrived at LAX with a 90-minute layover to get thru immigration and customs, walk to T3 after re-checking luggage and thru security For some reason did not get TSA precheck (but Cyn did). Did not bother with the club as the flight started boarding about 20 minutes later.
We were in first class from LAX to PDX, and arrived about 10 minutes early at 11:05 am, which was 5:05 am in Melbourne, exactly 24 hours ago we had left our AirBnB. We went over to Kenny & Zukes on concourse C to speak to our ride home. Emily was due to get off work in about 20 minutes. We then got our luggage, and Emily picked us up curbside, after getting Dutch Brothers.
We got home to a very excited puppy. Dylan was very happy, and even Nori the cat was happy.
Overall, I think even by my standards, this trip was the most epic ever. We did so much, saw and experienced so many things. However, we only scraped the surface of Australia, and there is more to New Zealand. We must go back someday. I love both of those countries!
< Previous Day (Melbourne Day 2 & 3)