Trams, Trains, Boats & Geocaching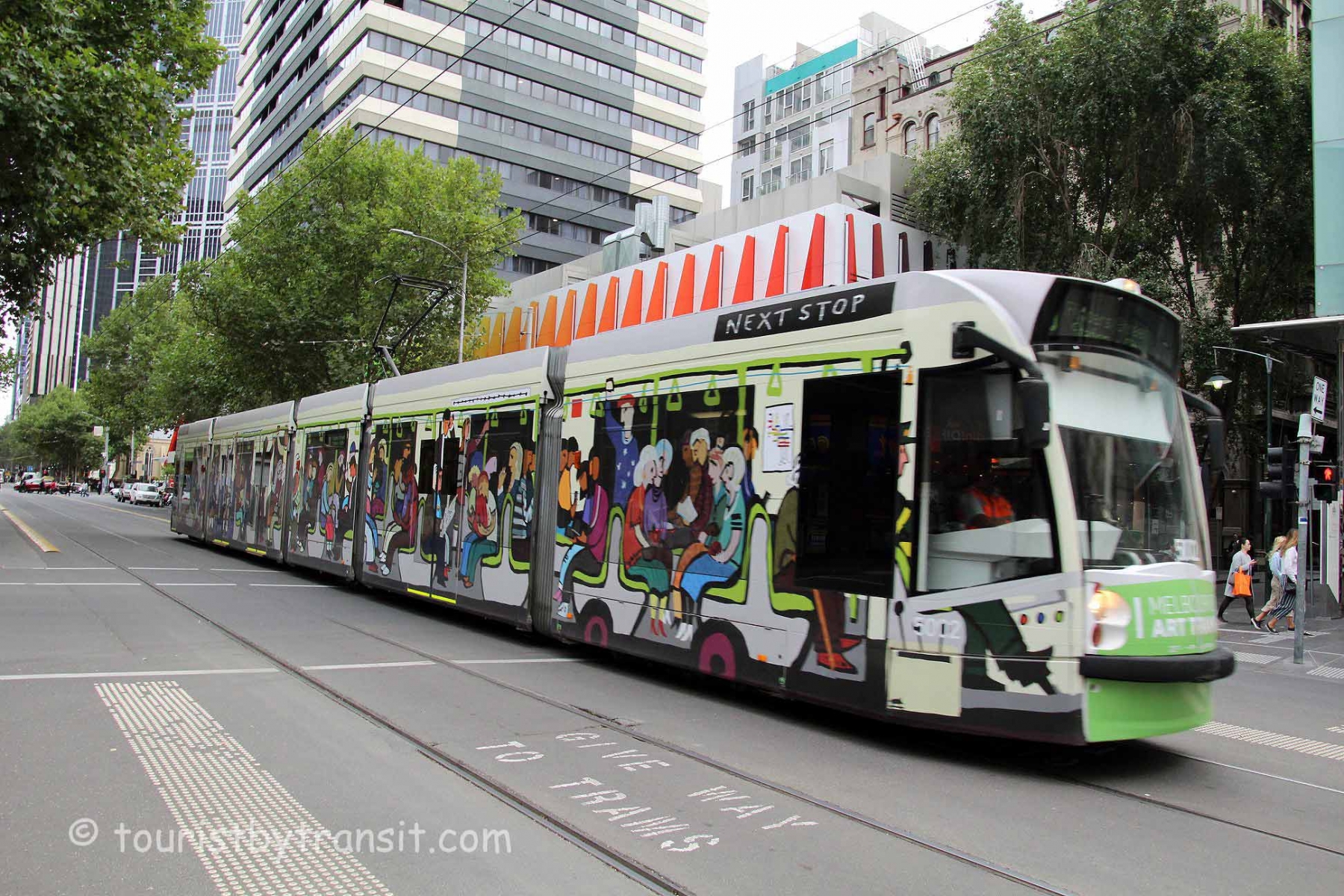 The original plan on the 25th was to head to Bendigo to the Gold Mine and trams. But, we were starting to get tired, and Melbourne has no shortage of trams (the largest tram network in the world), so we stayed in Melbourne.
Monday morning I met up with Mal and went around tram exploring, scouting the Art Trams, and him explaining all the differences between the tram types, and where the cable trams ran. It was great!. Then we parted ways, and I took Cyn out to lunch
We went by tram to a hamburger pub called Easey's. Its call to fame is that is located in a building that has 3 former Commuter rail cars on its roof. We ate in one of those railcars. It was actually one of the best hamburgers we have had, and of course fantastic chips (fries). Now that we are back home, I have been disappointed in all the fries I have eaten at a local place that I love their fries. Chips in Australia and New Zealand are so much better!. After lunch, Cyn was still pretty exhausted, So I brought her back to the room, then I went out again to from train/tram riding and geocaching. For dinner, I took her on a short walk to the Royal Melbourne Hotel. I had passed it earlier in the day and looked pretty cool. Part of it was an old prison. Loved the feel of the place. I ordered a Pork Schnitzel for dinner to share. It came out and it was HUGE. Sadly it was tasted horrible to both of us. Luckily the beer and coffee were good. I did not want to have dessert there and felt like gelato. So we hopped on the trams to head to the Italian district, where we had great gelato.
The following morning, I headed out again with the goal of finding a couple of tram themes caches near the zoo. One was a 2 stage multi. I figured it should be good. The first stage was right by the tram stop, but the final was located almost 3 miles away, and not by a tram line. I did take a tram, then walked about a 1/2 mile to a different tram line. I stopped at a Letterbox cache by the tram yard, then a different tram line to get closer. But still walked another 0.5 miles to the cache final. It took a bit, but I found it. Since it was getting late in the morning, and I wanted to ride the underground rail city loop, I got on a bus to take me to the train. I thought the bus would be faster than walking and a tram, but it probably wasn't as the bus was a few minutes late.
I managed to ride the full city loop and illegally took a few photos as it is posted not to take any photos of the city loop stations (very odd). Then it was lunchtime.
I took Cyn out to a German restaurant for lunch on the Southbank but had stopped first at an information center about Melbourne's new metro line under construction. The folks there were very surprised with an American very interested in this project…
After lunch we did a little souvenir shopping, then took a boat our on the Yarra River towards the stadium area. Now it was 5 pm, I was interested in checking our St. Paul's Cathedral. We walked in just as Evensong service had started. We enjoyed the Evensong service. It was a pretty similar format to the services my choir had sung at last year in Worcester. Very beautiful.
For dinner, I decided we would go across the street to one of the oldest pubs in Melbourne, Young & Jackson. We sat in the restaurant upstairs next to Chloe's Bar (named after a large portrait of a nude Chloe). We sat by the window so I could watch the trams.
Dinner was very good and filling. A good place for our final dinner of the trip.
We got back to the room and I started packing as we had to get up early the next day to head home.
< Previous Day (Melbourne Day 1) (Flying Home) Following Day >