Good-bye Ship, Hello Bats!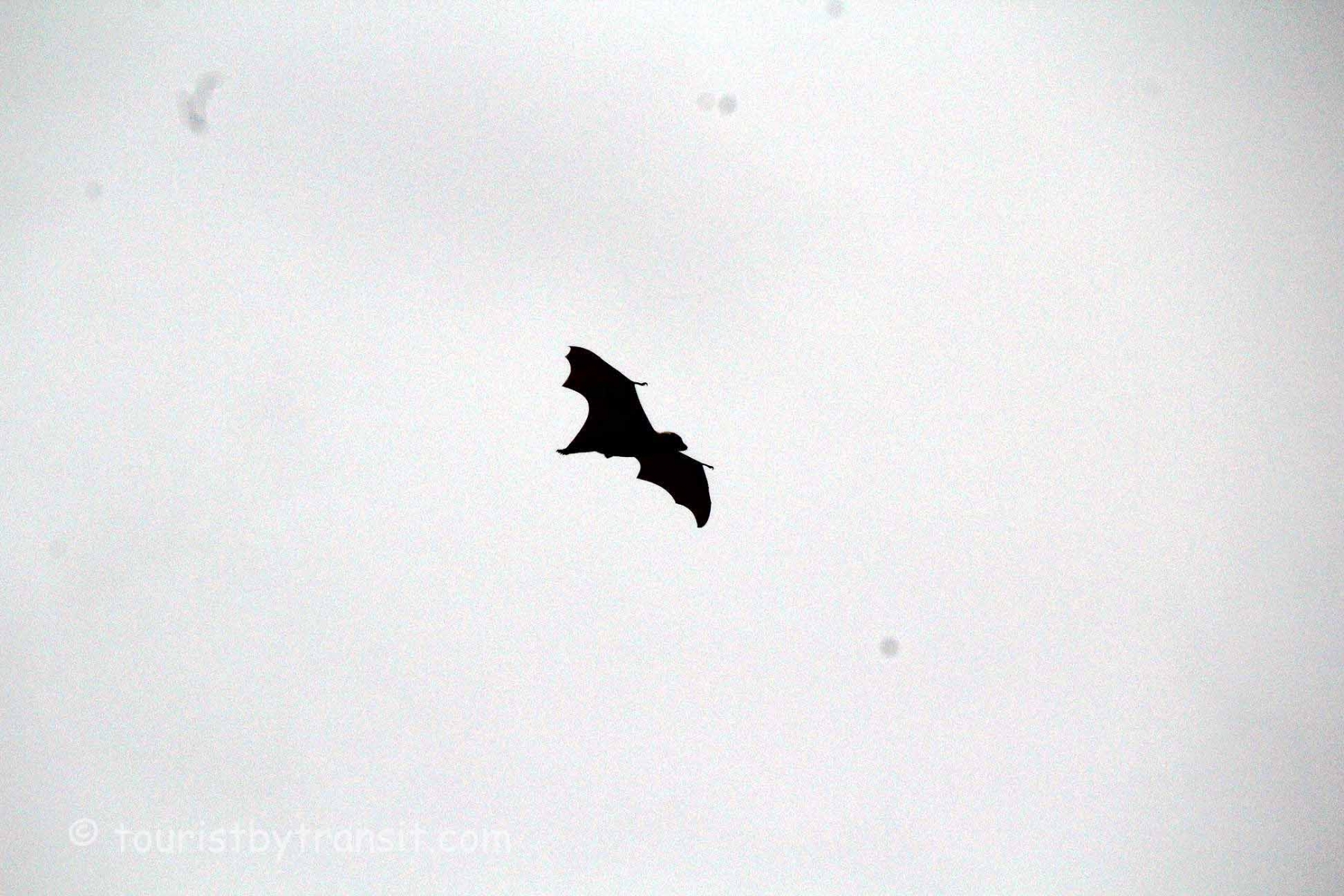 It was a semi-sad day today as we had to leave The Ovation of the Seas, our home for the past 13 days. But we still had more vacation ahead of us!
We were walking off the ship at about 8:30 am. Just after we left the terminal the skies opened up and started pouring rain. Luckily I had my Columbia jacket in easy reach. While leaving, a young man approached us asking if we were flying out on Virgin Australia. We said yes, he then asked if we wanted to take advantage of luggage check-in at the pier for $20/bag (AUD). Looking at the rain and the fact we did not have to be at the airport for a few hours, we said yes. So he led us to a tent where they were doing that service. It took a bit, but soon our 2 large bags were checked in and on the way to the airport…
I headed to Circular Quay train station, where I got some shots of the trains, as well as the boats. Then off to Central Station. There we stopped for a mid-morning breakfast at the same place we ate when we first arrived in Australia. I also had a plan. We did not need to be at the airport until 12:30 for our 2 pm flight to Cairns. I had noticed that the ARHS bookstore has a new book for sale (Facebook notices are good and bad). The Illustrated Atlas of Tramways of Australia and New Zealand. Cyn indulged me to go while she had her coffee. So off I went one stop to Redfern to the shop. The book was right on the counter. Yep, worth it.. Then back to Central station. I took more photos of the trains at Central (it never gets old for me), then boarded the train to the airport.
Since we already had boarding passes, we just went straight to security. I found it odd in Australia that there were no ID or boarding pass checks to go thru security. We had lunch at a nice brewpub in the airport (good beer too). Then we were on our 2.75 hr flight to Cairns. I was surprised that VA gave a small sandwich with snacks on the flight. That does not happen in the US!.
Upon arrival at Cairns, our luggage showed up without a hitch, then picked up our rental car. I got a rental car rate that about the same as a round trip taxi, and I had free parking at our AirBnB, so no brainer. I would have felt weird loading all that luggage into a taxi anyway. Australia is now the 4th country I have driven on the left side of the road (and now the 4th continent that I have driven).
It was only a 10-minute drive to our room in central Cairns. As we were getting close to our place, we noted a lot of birds flying around in the rain. Then it hit us, they weren't birds, they were bats or Flying Foxes. They were large! We got to our room okay. It was a nice 1 bedroom with a kitchen on the 3rd floor. We had a balcony overlooking the street. But even better, we could see the bats flying all over town. Just about 1 block away are 2 large trees that they roost in…
For dinner, we walked around a bit. The goal was a Hemingway's brewery. But upon our arrival, we were told they had a private party. They gave us a 10% coupon for a future visit.
I decided to go to the Irish place closer to our room. In our room there was a coupon for a meal and beer for $10AUD, so grabbed it and off we went.
We sat down, I ordered our food, both our meals came with a free shorty beer, which means I got 2 shorty beers.
After a little while, an entertainer started playing his guitar and singing just a few feet from our table. He had a great tenor voice, a great falsetto and could go into low baritone range. At one point 2 young ladies were looking for a place to sit, our table had plenty of room, so Cyn invited them to sit with us.
During the singer's break, we started talking to the young ladies. They have recently graduated university students from London. They were on 3-month holiday going around Asia and Australia. They had no real plans on what they were doing when. One thing that surprised them is how big Australia is and it takes a long journey to get anywhere. There are used to the UK where if the journey was greater then 2 hours, they would spend the night. I happened to be wearing my London Tube map t-shirt, which they recognized the map. They could point out on my shirt where they lived and went to Univ. What a great conversation. However, we need to turn in as there was a big Great Barrier Reef day tomorrow. So we bid our farewells and went back to the room.
It was nice that the rain did not dampen our spirits. This trip keeps getting better and better.
< Previous Day (Sea Days) (Great Barrier Reef) Following Day >