Sydney Tramway Museum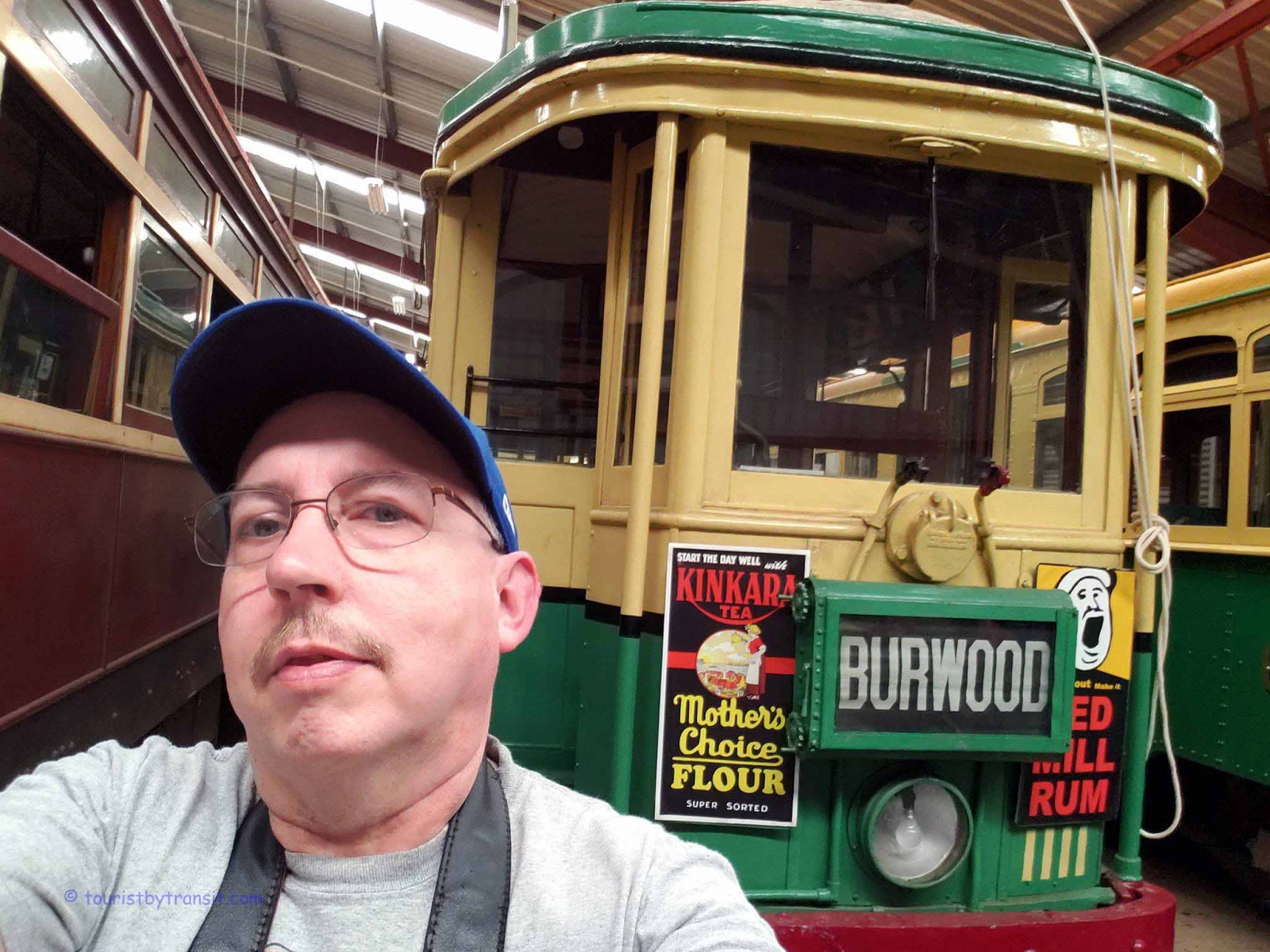 Today was spent at a required stop for me. The Sydney Tramway Museum. We took the train about 45 minutes to Loftus, which is a 2-minute walk to the museum. I had contacted the museum prior to my arrival and was given a personal tour by Matthew Geier of their latest acquisition, a modern LRV Variotram from Sydney that was retired.
The morning and early afternoon was spent riding and photographing tram. I am just posting a few here. I was also given another tour by another volunteer of their running shed as that is where O-class car #1111 is stored. It is sister car to the Sydney car at the museum in Oregon which I have operated.
We had lunch from the canteen at the museum and my wife was very patient waiting in the shade for me to complete my experience.
Once done, We hopped on the train one stop so I could get a tram themed geocache in Sutherland before heading back to our room. While Cyn rested, I went back out to visit a Railway history group's bookstore (ARHS-NSW) at Redfern. I only found about it via a display on the construction of the City Circle railway at St. James Station. The group had recently published a history book on the City Circle construction. It is probably the heaviest book I ever purchased, so much keeping luggage weight down…
I went back to the room, then we headed out for dinner. First stop was the Hard Rock Cafe at Darling Harbor for the requisite shot glass. We walked around the harbor, but I decided to go to the oldest brewery/hotel in Sydney for dinner, The Lord Nelson, located The Rocks area. Originally I planned to hop a bus, but there was a delay, so we grabbed a cab for the 10-minute ride. The cab driver did not understand me when I just said Lord Nelson, When I gave him the address, he said: "oh you mean THE Lord Nelson Hotel/Brewery". I guess I need to call my fellow choir members David, Barry & Greg: THE Nelson's. It was a great place. We ordered a meat pie. It was THE best pie I have had since The King Charles House in Worcester, England, and that is saying a lot!
After dinner, we went to the close by the bus stop to get to the train. I noticed the bus shelter looked like an old tram shelter. I looked at it and the sign said that yes indeed it was a former tram shelter. And looking at an old tram map of Sydney, the trams did go by here to Miller's Point. A nice way to end a tram day!
< Previous Day (Touring Syndey) (Koalas & Blue Mountains) Following Day >