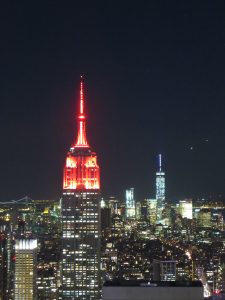 Can you get to popular hotel zones in NYC from the airport?
I get this question all the time. The answer is that you indeed may, and some may be faster than road transport! I definitely would NOT recommend renting a car if you plan to stay in the city. Parking costs are high, and traffic is notoriously bad. With NY being a very walkable city, or hop on a subway or bus. I recommend taking transit. This blog post will show you how you can start your visit to NY!
There are 3 major airports serving New York City. The closest to Manhattan is LaGuardia, but it is the worst for a transit connection, although it is possible, and it will get better in the future. The second closest airport is not in NY but is in New Jersey. Newark International Airport is a hub for United Airlines. The third and final airport is JFK International Airport. It is the largest international hub for city. I will give directions for each and then my picks at the end.
First, let us start with LaGuardia.
Currently, there is no rail transit access to LGA. But, there are options. The MTA does have two bus lines that se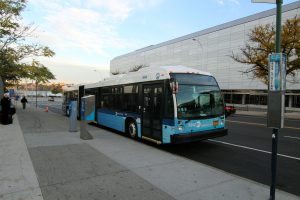 rve the airport.
M60-SBS is a high-quality bus route that connects the airport to Manhattan and multiple subway lines. You must pay the fare before boarding the bus. Standard MTA bus/subway fares apply. The bus connects with the following subway lines

N/Q at Astoria Blvd in Queens.
4/5/6 at 125th St/Lexington Ave in Manhattan
Metro-North trains at 125th St/Park Ave
2/3 at 125th St/Malcolm X Blvd
A/B/C/D at 125th St/St. Nicholas Ave
One at Broadway/116th St (Also Columbia University)

Q70-SBS is a high-quality bus route that stays in Queens but also connects with subways lines. You must pay the fare before boarding the bus. Standard MTA bus/subway fares apply. The bus connects with the following subway lines

E/F/M/R/7 at Broadway(Queens)/74th St
LIRR/7 at Roosevelt/61st St
There are other transportation options such as private buses, taxis, and Uber/Lyft. There is a hotel cluster in Long Island City Queens around Queens Plaza. If you stay in this district, I would recommend a Taxi or Uber/Lyft.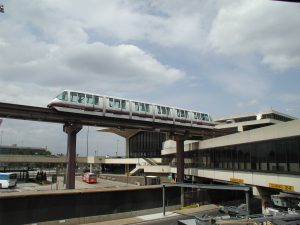 Next up is Newark Airport.
This busy airport is well connected to NYC. The airport has a monorail system called AirTrain that links all three terminals, rental cars, and parking. It also connects to the Newark Airport Train station served by frequent NJ transit commuter trains as well as Amtrak Trains.
NJ Transit has ticket machines at Airtrain stations as well as the airport station. The fare to NY is around $13/person. You want to take trains to NY Penn Station. Amtrak also heads to NY, but tickets might be higher. From the airport station to NY is about 25 minutes. I would recommend avoiding morning rush hour as these trains tend to be very crowded, making bringing luggage aboard nearly impossible.
If you choose a hotel in Jersey City or lower Manhattan, you may decide to take the train just one stop to Newark Train station and transfer to the PATH trains to World Trade Center.
Newark Airport also has express buses, shared vans, taxis, Uber/Lyft to NY. The buses are around $13, taxis/Uber/Lyft around $70~$80 plus tolls. Tunnel tolls are about $14 to NYC, if the turnpike is chosen, there are more tolls there.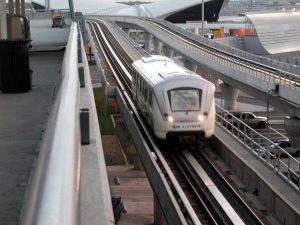 Finally, there is JFK Airport.
JFK is the furthest from Manhattan, but there are several options to choose from. The first step is the AirTrain. There are 3 AirTrain Routes — the inner loop (Clockwise), which serves the Airport Terminal. The Outer Loop has two routes, both serving all the airport terminals and the Gateway station for rental cars and hotel shuttles. One way continues onto Jamaica Station in Queens and the other to Howard Beach Station in Queens. These trains link to various options for the city.
Jamaica Station- Served by the E/J/Z subway trains as well as the LIRR. For Midtown and westside of Manhattan, the E-train is the best bet, with a 30-minute ride weekdays and weekends (lower Manhattan in just under an hour). For Williamsburg Brooklyn/lower Manhattan, the J/Z is your path at about 50 minutes. You may also ride the LIRR for a higher fare, which goes to Penn Station in Manhattan in about 20~25 minutes.
Howard Beach – Served by the A-train. The A will take you to Downtown Brooklyn (30 min) and lower Manhattan in about 40 minutes, mid-town in just under an hour.
JFK also has many ground transportation options, but with it being much further from Manhattan, is very subjective to traffic and thus cost are much higher. It could 45 minutes; it could be 2 hours. I would dissuade folks from that alternative.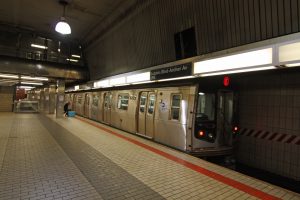 I have taken the options from JFK and Newark, not LGA (I personally do not like LGA). Newark is quick by train, but commuter trains are not designed for large luggage pieces. Also, rush hours make it worse. Plus, if your hotel is not near Penn Station, you will need to take a taxi or the subway. So I consider the options a little limited. JFK, despite the fact it further afield, has better options. Depending on your hotel locations, you maybe be able to get to your hotel without changing trains by taking the subway options. The subway transfer from the AirTrain is near the start of those lines. Therefore, you should be able to get on the train, even with luggage. Just a word of caution that getting off the train might be difficult during Rush Hour. You may also want to consult the latest subway maps and identify stops that are handicapped accessible, which translates that there are elevators which is better for luggage. My personal choice is taking the E-train as it runs pretty frequently from the airport and has a fast run to the city. The A-train frequency from Howard Beach is a bit less. The J/Z is the most scenic option as it is elevated for most of its route, but it also the slowest option.
So next time you are in NY, take the train from the plane.