A Scenic Train Ride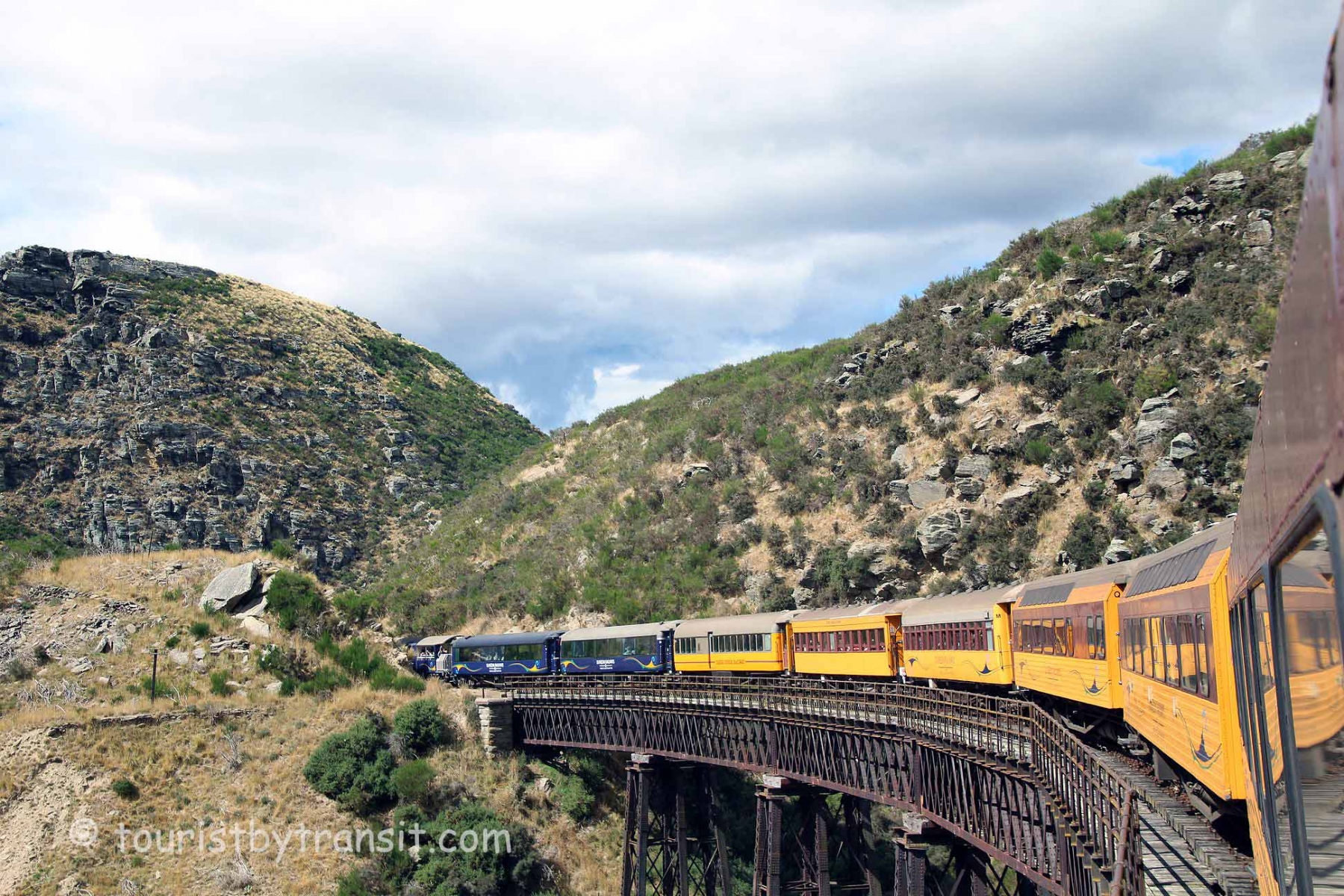 Today was spent riding the Taieri Gorge Railway. Due to our ship's planned late arrival, I had opted to book the train trip thru the ship, at a premium. But this way we boarded the train right at where we docked, no risk of missing the train in town or at Pukerangi. We were directed to the first passenger car, which as rather comfortable. We sat with an older mother-daughter from Australia. The train car did have outside vestibule we could go to. There was also an open car about mid-train, but it looked crowded, so I never went there. It took about 2.5 hours to get to the turn around point at Pukerangi. On the way up they gave us free snacks and drinks (including beer and wine.
At Pukerangi, we were only supposed to spend 20 minutes there as the engines ran around the train. but it was closer to 40 minutes. This would impact us later. I was happy to find a geocache there. While we were stopped, ee had swapped tables with the 4 folks on the other side of the car so we all would have different views heading back.
After starting our return, we were given a box lunch, which was not too bad. I felt bad for our car host as normally they would have 2 car hosts, but they did not have enough volunteers this day.
The ride back was nice, but getting warm. We had to stop at Hindon to wait for train orders to continue. Then we stopped again before joining the coastline at Wingatui to wait for the afternoon train to pass us. We were stopped a good 30 minutes. All this time waiting was adding up. I had hoped to be back at Dunedin by 3 pm to visit the Toitu Otago Settlers Museum as they had displays of the former cablecars of Dunedin, plus the locomotive Josephine. Plus at 4 pm I had a geocaching event to go to being held by German Geocachers at the Octagon in town. We didn't start moving until 3:55 pm, I had sent a message to the geocachers that I would not be there.
We were then stopped again just short of Dunedin Station due to another train. So my hope to at least visit the museum or see the town was dashed. We pulled in to the station at 4:30 pm. The train was not going back to the dock in Port Chalmers because port trains were blocking the line, so everyone had to disembark the train to board buses back to the ship. This did give me a little time to at least photograph the beautiful station. It took a long time to get enough buses to get us all back. We boarded a bus around 5:15 pm.
The train ride was great. I think the Skagway train in Alaska is much better though. Missing checking our Dunedin was a disappointment. I will need to come back to visit someday.
For dinner, we just got food from the Windjammer, as we had been invited to a Crown&Anchor upper tier event in the Two-70. It was a nice event basically thanking all of the loyal cruisers for using Royal Caribbean. They showed off the features of Two-70's back screen, as well as the robot arms holding large TV displays and what they could do. It was a great show. The Hotel Director really gave an inspiring talk about what he does and he believes it is people that make the ship work.
<Previous Day (Fjordland) (Sea Day) Following Day >