Flying Above the Clouds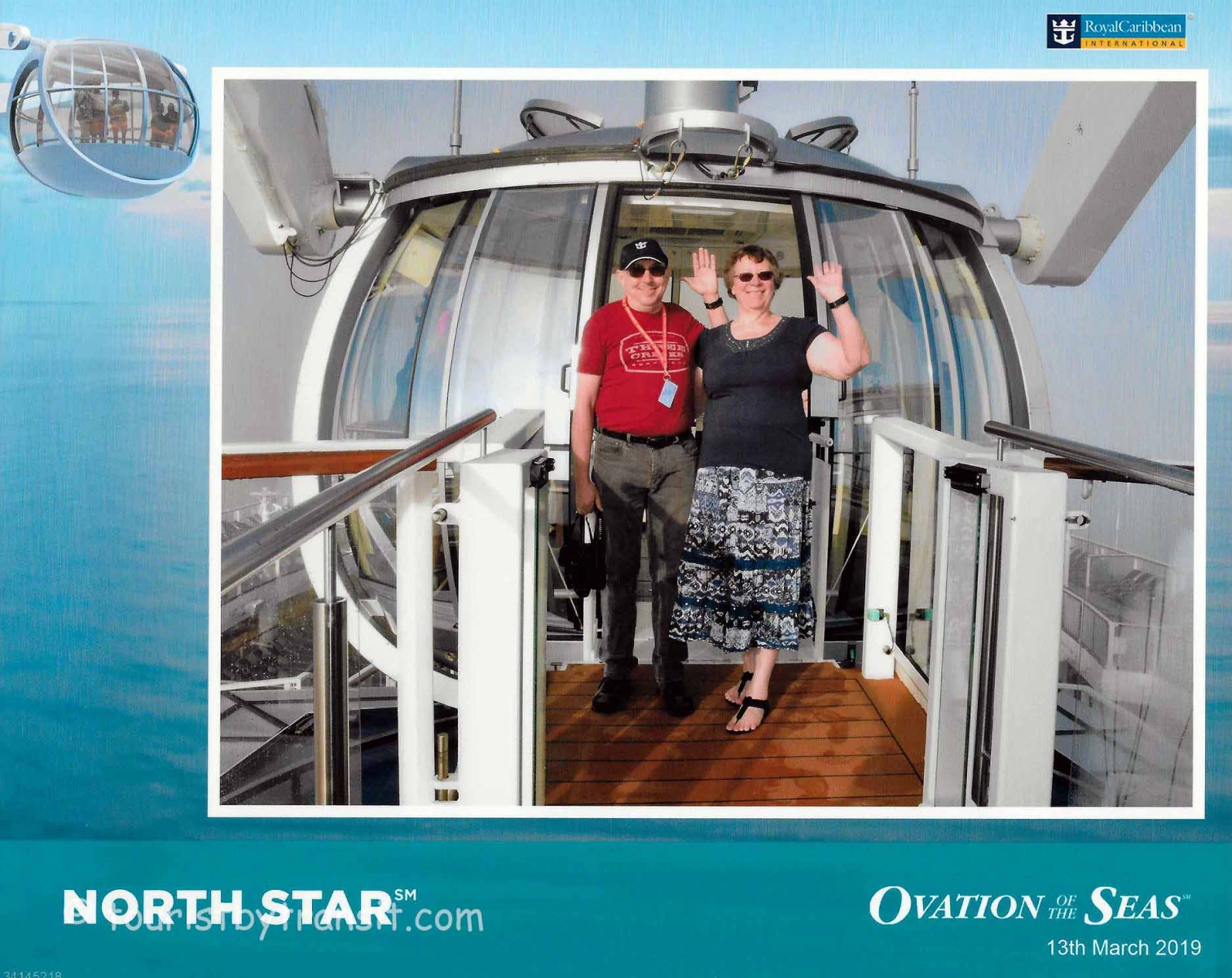 Today was another Sea Day. There were 2 highlights today. First, we had booked a trip on the North Star. This is basically a glass bubble that is on a huge hydraulic arm that they can rise above the ship for a better view. The bubble is similar to the cabins on the London Eye.
We had a morning reservation. About 30-minute prior fog started to roll in. The ships fog horn was going off. When we were heading into the glass cabin the crew said there might be nothing to see, and if that was the case, they would re-schedule us.
As the arm slowly raised up, we were deep in the fog and the ship seemed to disappear. Then suddenly, we were above the fog bank. It was as if we were flying. We could see land in the distance but was hard to see the ship below us. Cyn noted that every time the ship blew its fog horn, it was as if the ship was calling the fog to gather around the ship. The fog seemed thickest over the ship. It was a great experience.
Next up was to see the matinee of the show The Beautiful Dream as we missed the evening shows the night before. It is a Royal Caribbean 50 minute Broadway-style show. It was VERY awesome. Basically about a man with a family. His wife had passed away and was afraid to move on. He was reluctant to find new love. Thru a dream with the spirit of his wife, he learned to let her go and find love again.
For dinner, we went to Jamie's Italian. This specialty dining is inspired by the UK famous chef Jamie Oliver. We had a great server and fantastic food, it was the best meal onboard. So much so that we decided we eat here again on our anniversary later in the cruise. We also asked for the same server when making the reservations.
We skipped the headliner show this evening. Instead, we went to a Big Band concert followed by the full ship's orchestra concert in the Music Hall. It was a great evening of music!
< Previous Day (Dunedin) (Wellington) Following Day >