Who loves Art Deco – I do!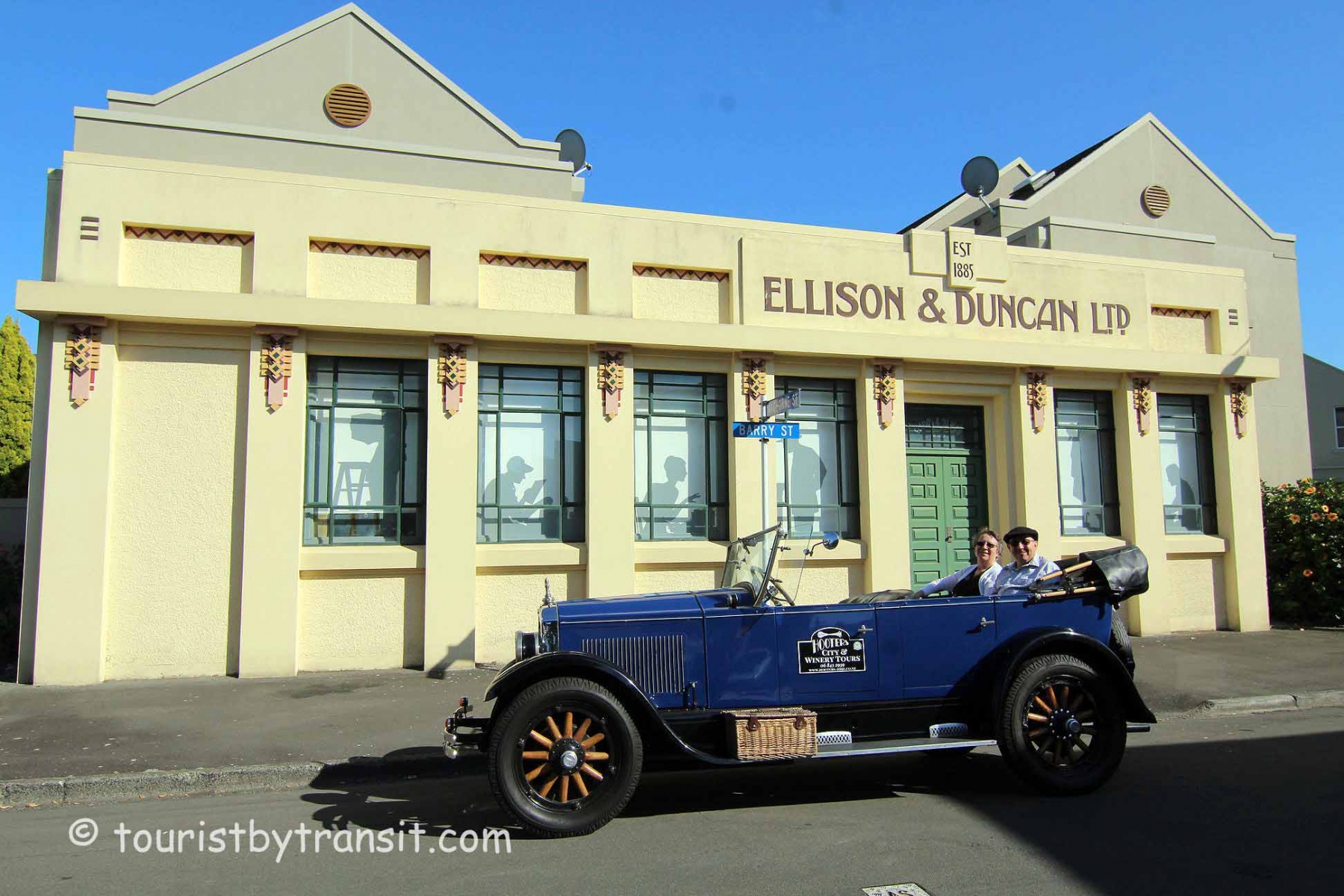 I didn't have any expectations for Napier. I knew it was famous for its art deco buildings, but that is it. I had hired a local company to give us a tour around town in an old car which seemed like it would be fun. What I thought would be a sleepy stop turned into a great stop. Both Cyn and I fell in love with Napier.
We took the port shuttle bus to town and made a beeline to the kiosk to Hooters Vintage Cars. I had reserved a closed top car, but with the great weather, I asked to switch to an open top, which they obliged. They put us in a blue 1927 Buick named Bonnie. Since I drive a 2014 Buick and I thought it was perfect. Our driver was Ginny. She was simply fantastic. The first thing she said is Cyn had to do the royal wave as we went around town. Cyn did, and she felt like royalty in this classic car!
Ginny drove us all over town telling us about the history of Napier and pointing out all the different historic buildings. Napier was destroyed by the awful Hawke's Bay earthquake on Feb. 3rd, 1931. What wasn't destroyed by the earthquake, was consumed by the fire afterward as the water system had been compromised during the quake. Most of the central business district was destroyed. To date, this was New Zealand's worst disaster with 256 people killed in the region, 161 of them in just Napier. The town was rebuilt in just under 4 years. Since the 1930s was the art deco period, most buildings were built in that style. There are Victorians around town, those were built prior to the quake and survived as they were wood framed, and luckily escaped the fire. Napier also gained land during the quake. The land uplifted pushing its shoreline outwards, and in the port area became new land which was level enough for a new airport.
The one request I had with the car tour was to visit a surviving tram shelter, which Ginny took us to and allowed me to get out of the car to take photos. Prior to the quake, Napier had a tram linking downtown to the residential areas and the port. The trams were destroyed in the quake. Tracks were left in place as there was some consideration to restore the trams, but by 1935, it was decided to not rebuild the system and the tracks were paved over. The tram shelter at Shakespeare and Battery Roads is all the remains. It has been nicely maintained with nice murals.
We had a great tour of the area. Soon we were back where we started and thanked Ginny and started to walk around town. Soon it was lunchtime. I had asked the owner of Hooters Auto where was a good place to go with good beer. He gave me 2 options, I choose the Irish pub. It was just barely opening at the time. I saw Kilkenny on draft and that is all I saw on the beer list (there were other choices but K is my favorite beer). We had a Guinness Meat pie which was yummy.
Cyn had eyed Blue Pearls while walking around. After lunch, I said we should go back to look at them some more. She really liked them. They are a new pearl being cultured in New Zealand. She found a pair that she really liked. I saw a nice little display saying 30th anniversary is Pearl. She was nervous about the price, but with the exchange rate, and the discount they gave us, I said it is our 30th wedding anniversary in a couple of days, so pearls she shall have
🙂.
Originally the ship was supposed to have left at 2 pm, but the captain asked to port if we could stay another hour, and the port said yes (which I bet the merchants were very happy with). It was now almost 1 pm. Cyn decided to get the shuttle back to the ship (after stopping for Gelato). I stayed in town to do a little geocaching. I found a couple of caches, then went after an Earthcache. It was about the Earthquake. It made me walk all over town to read different signboards. There was one elusive signboard I needed. I found it with about 15 minutes to spare before the last shuttles were heading back to the ship! It was worth it!
Back on the ship, we ate at Izumi for dinner, their Japanese Sushi place. No hot rocks or hibachi on the Ovation. Service was excellent as was the food. It is hard to try to eat $70 worth of sushi (which our package allowed). We did not quite make it. Our bellies were full. We skipped the headliner show again tonight.
< Previous Day (Wellington) (Tauranga) Following Day >